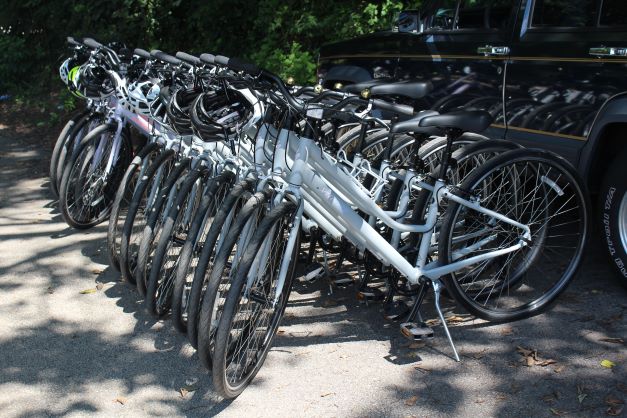 Borrowing a Bike is Easy!
Bike Pottstown/Bike Schuylkill is a completely free bike share program managed by the Schuylkill River Heritage Area. Anyone aged 16 and over can borrow a bike by providing a driver's license or valid state ID to a program administrator. To check out a bike, stop by one of the Bike Share locations. You will need to hand over your driver's license or ID and fill out a liability waiver. Then, you can take a bike! It's that simple. The administrator will hold onto your license until you return. The bikes can be used for a short period of time or an entire day, but they must be returned by the time the loaning office or shop closes. Bike share hours vary by location.
About the Bikes
The bikes are single speed and three-speed cruiser bikes with coaster brakes. They are sturdy and regularly maintained, and both men's and women's bikes are available. The seat is adjustable and comfortable enough to ride all day, and each bike is equipped with a front-mounted basket for storage. Want to lock it up while you shop or eat? No problem. We offer combination locks that can be set to the combination of your choosing at no additional cost.
Next Step:
Look through some featured rides, download a pdf map of your area, or transfer a route to your smart phone map.